Shaker kitchens designed and built in
Bromley, Erith & London
Clean and crisp edges, minimalist, modern. Shaker kitchen's trademark straight lines create feelings of organisation and order, perfect for cooks who like to have complete control. 
Shaker kitchens usually refer to a five-piece cabinet featuring a recessed centre panel. They tend to be simple in design but can incorporate detailing in the edges to add something different and even more eye-catching.
Shaker kitchens can never look old fashioned because of their simple beauty. A style that's been around for centuries can't be wrong.
Please contact the team to arrange a no-obligation consultation to discuss your vision and how we can help bring that to life. You are also more than welcome to visit our showroom if you are looking for a bit of inspiration.
We install kitchens in: Erith, Bromley, Sevenoaks, Beckenham, Maidstone, Faversham, Bearsted, Yalding, Sandgate, Aylesford, Folkestone, Margate, West Wickham, Keston, Bexley, BexleyHeath, Sydenham, Croydon, Eltham, Chislehurst, Sidcup.

Why are Shaker kitchens so popular?
Shaker kitchens offer versatility, timelessness, and that they look good in other areas of the house, not just the kitchen. Their minimalist aesthetic makes them fit into almost all contemporary bespoke kitchens.
Can shaker cabinets be modern?
Because we offer a bespoke kitchen design service, we can merge shaker designs with modern features. We can create whatever you want. You have complete creative freedom. 
How much do Shaker kitchen cabinets cost?
We can give you an idea of pricing once we have seen your space and discussed your vision with you. Our consultation and digital designs are no-obligation. We operate with various budgets and are sure we can find an exquisite solution that works for you.
Take a closer look

Country fun

Shaker style kitchen incorporating door and accessory combinations suitable for any size of space. The door's sloped inner profile, v-groove and grain finish means it is perfect for a busy family lifestyle.

Take a closer look

Country for modern living

The warmth of rich Light Oak and Ivory evokes an inviting feeling and special designer features such as open shelving offer an abundance of storage space.

Take a closer look

Rustic shabby chic

Sloped internal profile, v-groove and smooth finish contrast perfectly with this eclectic mix of rough timber and wall finishes.

Take a closer look

Cosy, warm, rustic, homely

moulded, raised centre panels bring your rural space to a different level. Available in oak or with any painted finish.
The steps to your perfect kitchen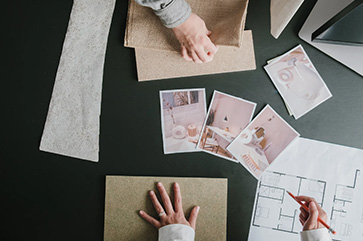 Where we find out everything about you and your project. Bring plans, mood boards and ideas along. We'll discuss what you want to achieve along with your level of investment.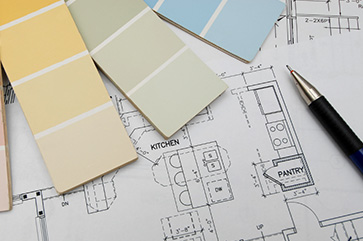 An opportunity for you to see your tailored first draft and adjust your design in preparation for the final presentation.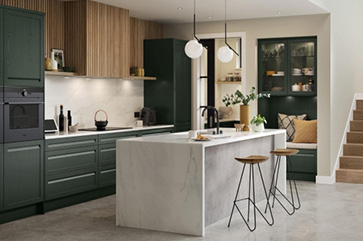 It's time to book you in for your dream kitchen.
Discover more
Book a free consultation