Traditional kitchens designed and built in
Bromley, Erith & London
Cosy, warm, rustic, homely. These are all words we associate with Traditional Kitchens that automatically make you feel at ease.
A traditional-style kitchen takes inspiration from times gone by to create a stunning space but with the benefit of modern appliances in a classic style.
Traditional kitchens typically incorporate decorative accents and details throughout the design, painted cabinets with or without glass front doors, simple granite or laminate countertops, hardwood floors, neutral colours and ornate lighting.
Whether you know exactly what you are looking for or need someone to bounce ideas off and provide inspiration, arrange a no-obligation consultation with our team. Alternatively, visit our showroom for a range of ideas of how your new kitchen could look.
We install kitchens in: Erith, Bromley, Sevenoaks, Beckenham, Maidstone, Faversham, Bearsted, Yalding, Sandgate, Aylesford, Folkestone, Margate, West Wickham, Keston, Bexley, BexleyHeath, Sydenham, Croydon, Eltham, Chislehurst, Sidcup.

What is a Traditional kitchen?
Traditional-style kitchens take inspiration from times gone by to create a stunning space. This type of kitchen focuses on embellishments that bring a unique character. Colours tend to be either dark tones like Greens and Navy's or extremely light designs using a lot of whites.
What are the features of a Traditional kitchen?
Perhaps the most significant feature of a traditional kitchen is the attention to detail. Designing eye-catching embellishments while maintaining a natural look gives the impression of effortless quality. 
Colours tend to be pastel to draw even more attention to the materials. Traditional kitchens give the air of simplicity yet are highly functional.
What is the difference between Classic kitchens and Traditional kitchens?
The main difference between classic and traditional kitchens is the classic kitchen typically has rounder shapes and gives a warm aesthetic vibe with a touch of homeliness. Traditional kitchens make use of features such as open shelving, painted cabinets, and neutral colours.
Take a closer look

Cosy, warm, rustic, homely

moulded, raised centre panels bring your rural space to a different level. Available in oak or with any painted finish.

Take a closer look

Traditional style with modern features

Shaker style doors featuring smooth painted finish, ideal for those who like to experiment.

Take a closer look

Rustic shabby chic

Sloped internal profile, v-groove and smooth finish contrast perfectly with this eclectic mix of rough timber and wall finishes.

Take a closer look

A timeless classic

Subtle lines on the outer front of the door creates the illusion of a true in-frame kitchen but with a more affordable price tag. Smooth matte painted finish and wealth of accessories combines luxury and practicality.
The steps to your perfect kitchen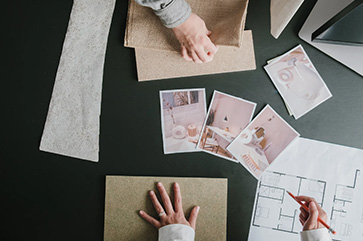 Where we find out everything about you and your project. Bring plans, mood boards and ideas along. We'll discuss what you want to achieve along with your level of investment.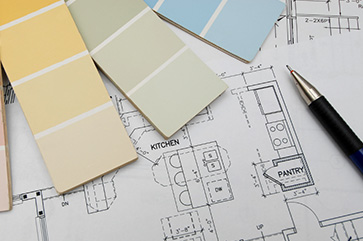 An opportunity for you to see your tailored first draft and adjust your design in preparation for the final presentation.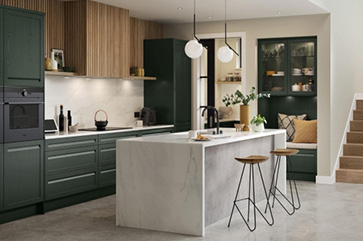 It's time to book you in for your dream kitchen.
Discover more
Book a free consultation